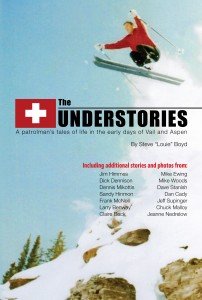 SOLD OUT!
We have sold out of our "second edition" of The Understories.  
. . .
Sad news everyone. Unfortunately, dad passed away in August of 2018. His memories live on in the book and through all of us who knew and loved him.
. . .
Just like Vail and Aspen in the 50s, 60s, and 70s, "The Understories" is a book that is self-made, self-published, and full of that raw, can-do spirit that created these resorts in the first place.
A lot of the Vail and Aspen books blow a lot of sunshine – this is the other side of that coin, the stories from the underground, told in an unfiltered narrative voice by the blue-collar people who were out there doing the work that made it all happen.
The Understories is part memoir, part storytelling, and all fun. Written primarily by Steve "Louie" Boyd, the 162-page book chronicles the exploits and adventures of ski patrolmen during the early days of Vail and Aspen, when the "wild West" took on a whole new meaning.
The book includes more than 60 color and black-and-white photographs of Vail, Aspen, and the surrounding wilderness, plus additional stories and photos from Jim Himmes, Mike Ewing, Dick Dennison, Mike Woods, Davey Floyd, Dave Stanish, Sandy Hinmon, Dan Cady, Jeff Supinger, Larry Benway, Chuck Malloy, Claire Beck, and Jeanne Nedrelow.
E-editions
In the spirit of the old days, we're not likely to put out a kindle or electronic edition of the book. Our feeling is that the photos, and the nature of the stories, deserve to be presented in print. We will, however, post some content and news at www.theunderstories.com from time to time.
Thanks again for your support.